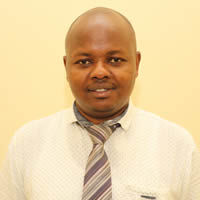 Name:  Jesse Mutugi
Title/Qualification: Master of Arts Degree in
       Communication and Media Studies
Position: Senior Administrative Assistant
Department: Admissions Office
Short Biography:
Mr. Mutugi is a Senior Administrative Assistant in the Admissions Office and is in charge of student admission and communication. He also provides communication and administrative support to the office of the Deputy Vice-Chancellor (Academics, Research and Extension).
Mr. Mutugi is a holder of a Bachelor of Education (Arts) degree from Kenyatta University and a Diploma in Public Relations Management from the Kenya Institute of Management. He holds a Master of Arts Degree in Communication and Media Studies from Chuka University.
He is well experienced in the areas of university administration and management, communication and public relations management, the establishment of linkages and development of Memoranda of Understanding, event management, protocol, management of meetings, report writing, development of policies and guidelines. Mr. Mutugi is a trained Quality and Information Security Management Systems implementation officer and auditor.