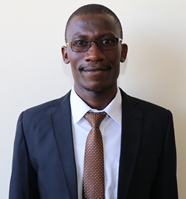 Name:  Mr. Francis Lekololi
Qualification:  Bachelors
Position: Administrative Assistant
Department: Admissions Office

Short Biography:
Currently, Mr. Lekololi is pursuing MSC programme at the University of Embu. Holds a Bachelor of Science in Agribusiness Management from the University of Nairobi (Embu University College). He is responsible for the following;
1.    Organizing for new and continuing students' registration in all the intakes
2.    Revise and update the students' information handbook
3.    Prepare and ensure availability of admission & registration documents for new students
4.    Provide administrative and clerical support to the process of admission
5.    Organizing for new students orientation i.e. Venue and preparation of orientation programme
6.    Registration & Records Committee Secretariat
7.    Prepare admission related proposals
8.    Follow-ups on course enquiries after tabling in the Deans Committee
9.    Prepare reports on course enquiries and, student registration and orientation
He is a team leader with excellent decision-making skills, excellent stakeholder communication and engagement skills.