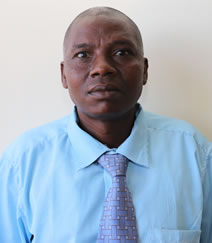 Name:  Mr. Josiah Njeru Mwaruvie
Qualification:  National Higher Diploma
Position: Assistant Registry Officer
Department: Admissions Office
Short Biography:
Mr. Josiah Mwaruvie is a well-trained and experienced Human Resource Consultant with considerable experience in capturing data, management of employees' databases, proper filing, and management of student's records.
Currently, he is responsible for receiving and filing student requests, communicating to students the status of their requests, communicating to successful applicants on their admission to the University of Embu and dispatching admission letters.
Mr. Njeru is dedicated to the continual development of his career having worked at the University of Embu for six years now. He holds a National Higher Diploma in Human Resource Management (KNEC) and a Diploma in Business Administration.
Mr. Mwaruvie is a dedicated and highly responsible person who is well accustomed to his work. Due to his outgoing personality, he enjoys working with people and has become multi-skilled in various office procedures making him very effective and efficient.