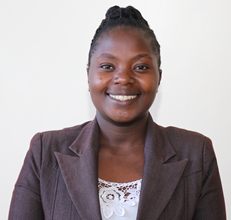 Name:  Mary Wanjiru
Title/Qualification:  Master's Degree in Business Administration
Position: Senior Administrative Assistant
Department: Admissions Office
Short Biography:
Ms. Mary Wanjiru is a Senior Administrative Assistant at University of Embu.  She is currently pursuing her Doctorate Degree in Business Administration (Strategic Management) at the University of Embu. Ms. Njagi holds a Master of Business Administration (Strategic management) from University of Embu and a Bachelor of Business Information Technology from Jomo Kenyatta University of Agriculture and Technology.  
She is well experienced in the areas of University administration, protocol, management of meetings, customer service, solving disputes, report writing, processing of student requests, marketing of the University Programmes and development of policies and guidelines.
She has a publication on Supervisor Support and Organizational Performance of Public Universities in Mt. Kenya Region, Kenya. http://saspjournals.com/download/11667// . Her interests include Strategic management & Planning. She has served in various appointed committees in the University either as a secretary or a member.