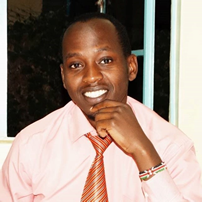 Name:  Mr. Richard Muthakia Kanyago
Qualification:  Bachelors
Position: Senior Administrative Assistant
Department: Admissions Office

Short Biography:
Mr. Richard Muthakia has served as an administrator at the University of Embu for the past six years where he has amassed a great deal of experience in the areas of policy formulation, admission and registration of students, event planning and organization, marketing and publicity, quality management, information security management, meeting logistics and business writing including minute and report writing.
He holds a Bachelor of Commerce (Finance Option) degree from Kenyatta University and is currently pursuing a Master of Science in Finance from the same institution. He has also received training in the areas of curriculum development and implementation, protocol and office administration skills.
In addition, he is a trained auditor in both ISO 9001:2015 (Quality Management) and 27001:2013 (Information Security Management) Systems and has served as a system auditor in numerous audits and as the ISO champion for the DVC (ARE) and Admissions Offices at various stages.
He is currently serving as a Senior Administrative Assistant in the Admissions Office and is always ready to offer a helping hand whenever it is required.